SARO Dry aging cabinet modell DA 127 G
SKU:
446-2001
Brand:
Saro
Delivery time:
3-4 weeks
Material: (housing) steel, matt black, powder coated.
Digital temperature control.
Humidity (60% - 85%).
LED lighting 0.8 W (can be switched separately).
Ultraviolet system.
With heating for ripening salami.
incl.
salt reservoir.
Self-closing door, double glazing.
Lockable door.
incl.
1 grid and 3 meat hooks.
Temperature +1 / +25 °C.
Connection: 230 V - 50 Hz - 0.14 kW.
Capacity: 130 liters.
Internal dimensions: W 512 x D 443 x H 612 mm.
External dimensions: W 595 x D 570 x H 820 mm.
Weight: 45kg.
Refrigerant: R600a.
Energy efficiency class: B (spectrum A to G).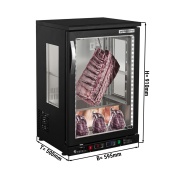 Temperature: 0...+5C.
Power 210W.
The body is made of stainless steel AISI 304.
Strong and consistent cooling.
Quiet operation.
Cooking cabinet for meat.
Crystal salt stones on the back wall provide a salt grotto climate and intensive ripening.
Dry aging.
Very little weight loss during ripening.
Ideal solution for professional use.
Universally usable due to individually adjustable temperature and humidity.
Net volume: 198 liters.
Digitally controlled thermostat to ensure constant internal temperature.
Digital and accurate display of humidity.
SKU:
FRSF1GT ,
Delivery time:
Ask for an offer
2389,00 €